An efficient and functional intranet is not only a guarantee of security for the internal exchange of information in the company but also something that can facilitate everyday work in a friendly way, also remotely. Leszek Koziatek, PHP Developer and a good spirit who takes care of the original system used in Performante talks about what the intranet really is and what possibilities it offers.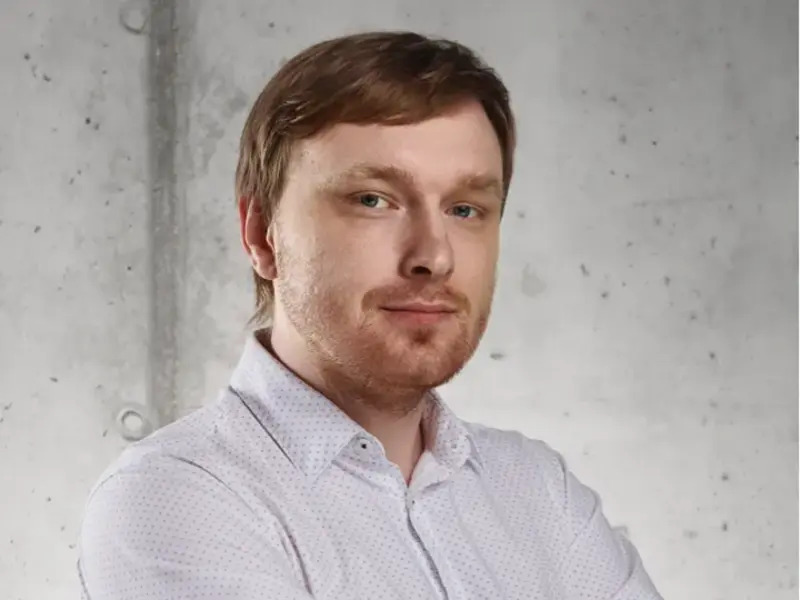 Leszek Koziatek, PHP Developer
Let's start from the beginning. What is the intranet anyway?
Imagine a home wifi network to which your laptop, TV, and printer are connected. When there is a document on our computer we can display it on our TV or we can print it with our printer. At the same time, it is very likely that we don't want to use our neighbor's printer or allow our neighbor to display the material on our TV.
The Intranet is just such a home network, with different types of access points (mail servers, CRM systems, file exchange server). This network may be used only by authorized persons (e.g. employees of our company) and no unauthorized person is allowed to use it.
It is interesting to note that before the internet, the open communication network we all know and love, developed to its current level, the intranet was indeed limited to a few devices connected within a single building.
What can you use the intranet for? It's not just a system for sending internal messages and announcements, is it?
The intranet as a network is the foundation on which we build the company's internal ecosystem. What we build on this foundation depends only on us.
The intranet can contain both internal company chat, thanks to which messages between users do not go beyond the scope of our organization, as well as entire complex CRM and ERP systems.
What in your opinion characterizes a good intranet?
First of all, intuitiveness. An employee looking for an answer to a question that concerns them should immediately know where to look. There should be no situation in which two applications within one intranet serve the same purpose.
How is a new employee in the company supposed to know whether a model contract is to be found in application X or in application Y if both of them contain documents?
It is also important that company resources are only made available to those users who should have access to them. Very often, when deciding to implement ERP or CRM systems in our organization, we have an ideal opportunity to redefine the scope of responsibility for particular positions. The same applies to the granting of rights to individual documents located on common disk space. A good intranet should automate the work of the whole organization but also of each employee individually.
Nowadays we work mainly from home — do you think that the intranet makes it easier?
Definitely. What's more, I think that in the current situation the intranet is essential for safe and effective work from home. Why?
First, safety. VPN, Virtual Private Network, is often used to access the intranet. The name itself indicates that it is private and does not require a physical connection. Using a VPN allows for faster data transfer due to data compression during the transfer and is more secure due to the encryption of this data. If the Intranet is accessible only to users inside our company network and VPN allows us to connect to it from any place on earth, we can work in the beautiful natural surroundings from our balcony and our desk is at your fingertips and no one without our knowledge has a key to it.
I mentioned a desk with locks. It is this ease of organization of company resources that is the second argument in favour of using the intranet. We need to check if the payment from the contractor has been received — we connect with internal CRM and we already know the answer. We want to check if we have a second monitor in the office, which we could rent to our home office, we can check it in the ERP system, without leaving home. We want to send a poster design for the HR department, just a few clicks. At the same time, every person interested has access to these files at any time and can easily find it. Who among us hasn't been digging through thousands of emails in order to find the only one? In a word, we can work without an intranet, but who of us doesn't like working in a safe and well-organized environment. :)
Should it be accompanied by some safeguards? How important do you think security is for the intranet? Does everyone have access to everything?
I've already answered this question in part, but it's worth noting that the basic requirement for any intranet is security. And here I mean both the security of the whole network and each of the components separately.
I would compare the security of the Intranet to that of the vault. Each vault is secured by thick walls from the outside and each bank client has access only to his or her lockers using the appropriate keys. Can we imagine losses caused by errors in the security of such a vault? I think that gaps in the security of the intranet could be comparable in effect.
From your perspective, what, apart from a well-functioning intranet, makes remote work easier? In Performante this kind of cooperation is nothing new — after all, we work from different places and time zones, so maybe you have some tools that you like — or recommend? :)
The intranet is only a tool to organize and automate work. It seems to me that the basic thing so often overlooked in organizations are company procedures. Let's imagine a company where everyone has a different way of informing about the progress of work, everyone organizes their time in a different way. Many years ago a problem was noticed, but the most advanced products are probably received in packages offered to us by IT giants such as Google and Microsoft.
We have everything you need for the basic organization of every company — a messenger, a calendar, a package of tools for working together on documents with easy access to file versioning. If we support it with some simple task organization system such as Trello or Asana we get a set that allows us to plan every task, every meeting and write down notes available for those interested.
In my opinion the most important thing is not what tools we use, but if everyone knows for what purpose and when to use them.
In Performante we use several of the tools you mentioned above, but we also have our own place in this protected network. What can we find there and does its content differ a little bit for individual employees, as you have mentioned before? :)
First of all, in Performante we have a kind of command center for the whole organization, which is our own system. It is a hybrid of ERP and CRM systems tailored specifically to our needs as an organization and each employee individually. The HR department can easily manage the human resources of internal teams or vacation requests of all employees. Performance has access to the management panel of agencies with which they cooperate, where they can find information downloaded from many external services. A specific all-in-one solution for each manager in the department. Each employee of the company has access to the schedule of booking a conference room and Office Managers receive notifications about upcoming meetings. This application is still being developed and changes at a pace no less than the realities in which we work.
Additionally, our intranet as a whole is equipped with an application that enables secure exchange of files, e.g. contract templates or an internal mail server that enables sending e-mails. This allows us to communicate efficiently internally and, what is important, every new employee of the company knows immediately that internal communication in the company takes place only through these ways. This simple assumption significantly improves the implementation of new people into the life of the company.