Our team has been working from home for several weeks already, and unfortunately, for now, there is no concrete date for which we could look in anticipation knowing that we would meet again in person. The ongoing situation is hard, but we've already had enough time to work on our routines and to find little things that make working and staying at home a bit easier.
Step into the office
It is not easy to separate work from life, especially if it has to take place in the same space. Of course, some people have the luxury of having their office area at home, but if it's not your case you might find some of the tips of Remek, our Art Director, really useful. According to him, it is important to designate a special area to have a feeling of stepping in and out of work. Moreover, he recommends changing from comfortable sweatpants into clothes that you would have worn to the office. For sure, staying in your pajamas could be nice, but isn't it better to leave it for the weekend, when you would be able to truly just do what pleases you?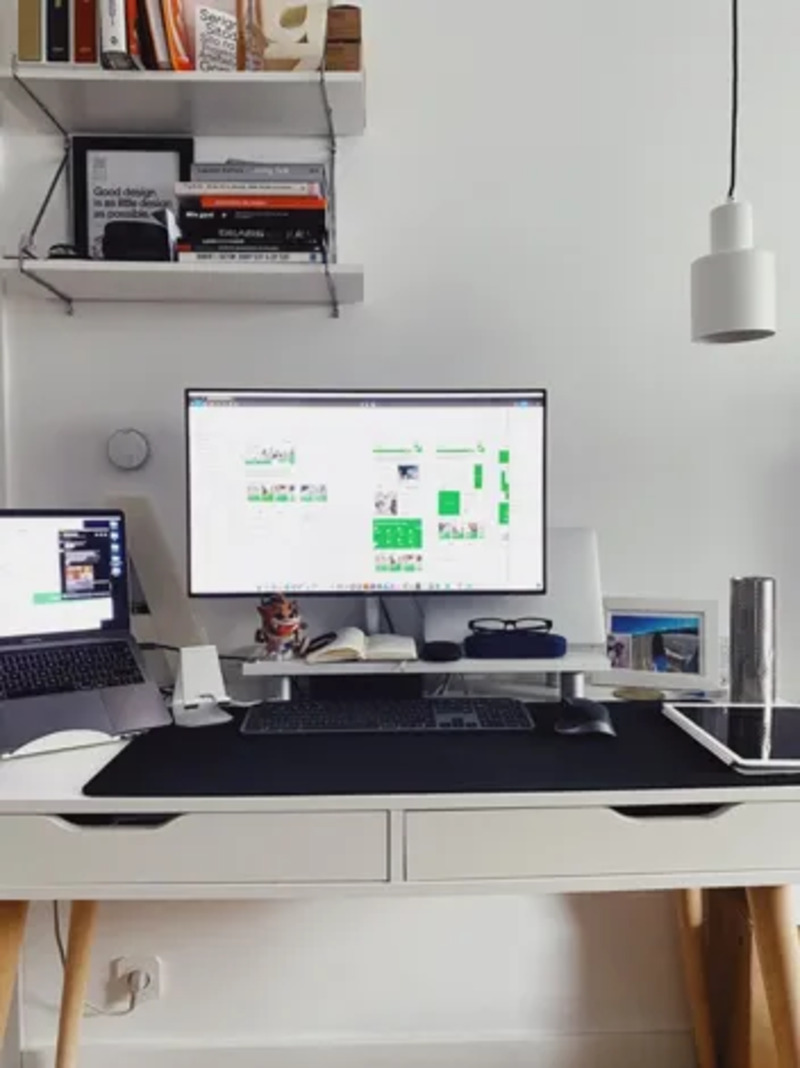 I designate the work area to step in and step out from the office — Remek, Art Director
The power of daily routine
Let's face it — not everyone masters working on their own, and for some working effectively while their favorite books or series are around might be a bit challenging. That is why it is important to stick to a daily routine. According to psychologists in the current situation, we should pay attention to what we do and establish some rules and good habits. Are you curious about how you can do that? Follow the tips from Remek:
Wake up.
Dress like you are going to work.
Remember about time management and include intervals (Pomodoro technique):
a. Decide on the task to be done.
b. Set the Pomodoro timer (traditionally the time you have in one slot is 25 minutes).
c. Work on the task.
d. End work when the timer rings and put a checkmark on a piece of paper.
e. REMEMBER — if you have fewer than four checkmarks, take a short break (3–5 minutes), then go to step b.
f. After four "pomodoros", take a longer break (15–30 minutes), reset your checkmark count to zero, then go to step a.
Be active and take a short walk (alone or with your dog :) ).

Finish your workday like usual.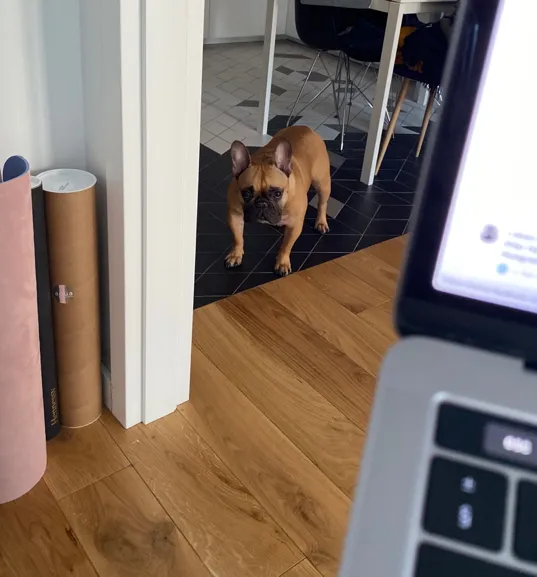 If possible, I go on a short walk with my dog — Remek, Art Director
Bring outdoor indoors
Being at home deprives us of the possibility of staying in touch with nature. That is why we should try to find all the possible ways to connect with it. Taking a bit of time between your tasks just to enjoy the view outside your window can have a great relaxing impact.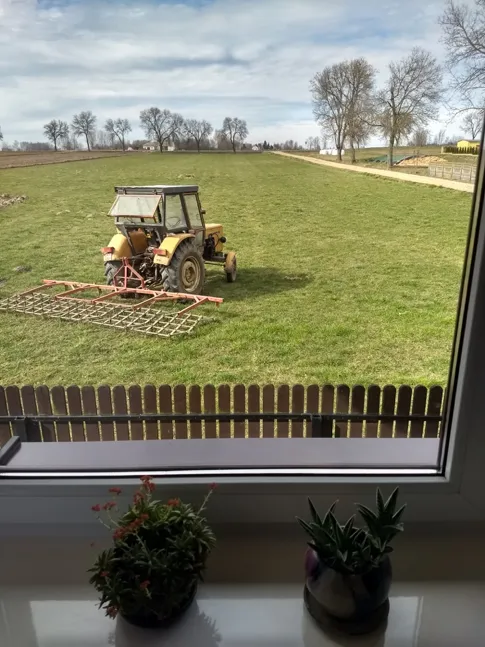 _I love working from the countryside for things like this: I take my eyes off of my computer screen, stare out of the window and get instant relaxation with this bucolic view — Álvaro, Senior Affiliate Manager_
But what to do when you are not as lucky as Álvaro and your view resembles more of a concrete jungle than nice green meadows? You can follow the suggestion of Marta, PR Manager at Performante, who likes to surround herself with house plants. Bringing some nature inside would be a great idea — beneficial not only for your mental but also physical health. Many pieces of research point out a great impact that plants have on the air in our apartments, as well as on the fact that looking at them could reduce stress.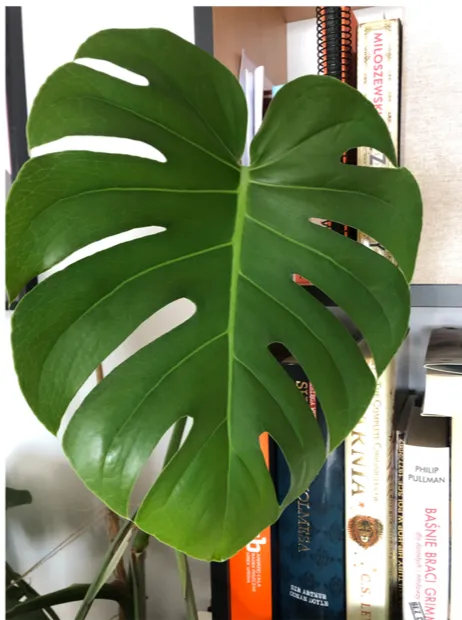 I am surrounding myself with plants to feel a bit of spring — Marta, PR Manager
Work (out)!
A sound mind in a sound body — that old proverb is always up-to-date. Many of us didn't even acknowledge the number the times we used to move our bodies in the office. A trip to the conference room, a short walk to the toilet through the corridors or even a quick escapade outside to get some lunch — those little activities kept us in shape during the workday and provided with some necessary breaks. Besides — even doctors and psychologists underline how important it is to remain active during the time of social distancing. How do we deal with it? There are online trainings and some fitness apps that can be downloaded, but some of our team members are even more creative.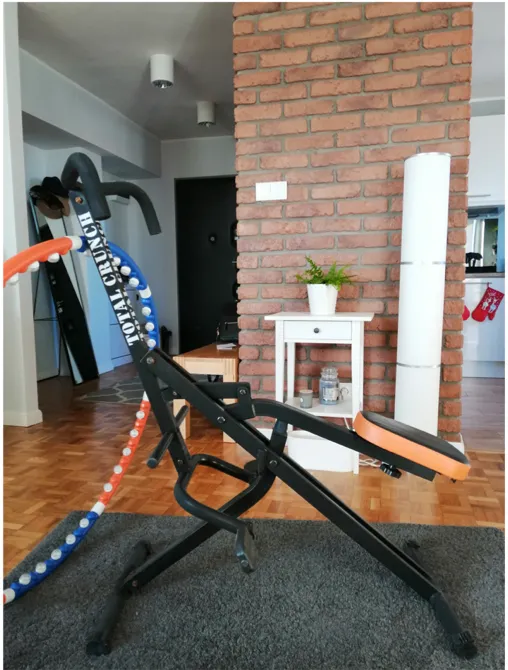 I need to replace the number of daily steps with something — Tina, Employer Branding Manager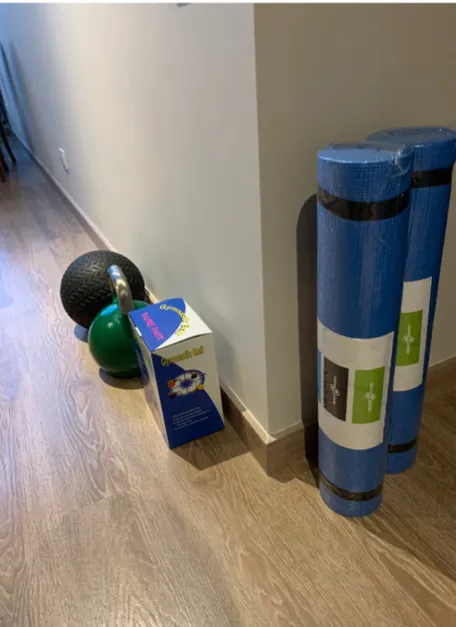 I regularly work out between one call and another — Maria, Managing Director
(You can check out the highlights on our Instagram account and to see even more creative ways of exercising https://www.instagram.com/performante_agency/)
Remember about fun
As we've mentioned before, it is really important to draw a line between work and private life, especially when they have to take place in the same area. That's why when we've asked our team how to remain efficient we were not surprised to hear while that working from home we should also remember about relaxing and keeping proper mental hygiene. You might ask how you can do that when you are in the same space all the time? That's easy. Set a deadline for yourself, end your work as usual — unless of course, there is an emergency, close your laptop, and leave "the office space". Congratulations! You've mastered it. For sure, you will have tons of ideas on what to do in your free time, and if not? Maybe Surabhi, Performance Marketing Specialist at Performante, will inspire you?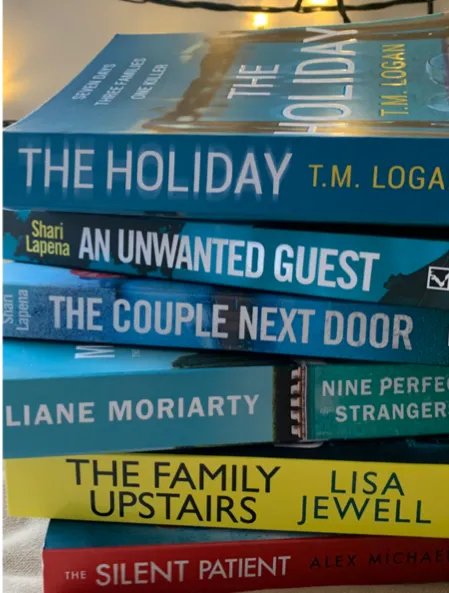 Being a thriller fan, these books keep me well occupied during the evening away from all the coronavirus madness — Surabhi, Performance Marketing Specialist