Push notification traffic, or simply push traffic, has already been here for a while, but it is getting more and more popular among affiliates every day.
If you already heard about it, but are still not 100% sure what push traffic is and how to benefit from it, this article will briefly explain why you should pay more attention to this format and start testing it now.
WHAT ARE PUSH NOTIFICATIONS AND HOW DO THEY WORK?
There are two types of push notifications: mobile and web browser.
- Mobile app push notifications: these are notifications you receive on your phone. On iOS devices you can see them on the lock screen, notification center or as a top screen banner. On Android devices, notifications appear on lock screen, home screen or swiping down from the top of your screen.
Usually when downloading and installing a new app on your phone you receive a message asking if that app can send notifications. Those notifications can be alerts, reminders, promotions or any other topic the app developer wants to inform the user.
Example of mobile push notification
- Web browser notifications: some websites may ask if you want to receive notifications:

After giving permission to it, you are added to a "contact list" and can receive messages directly on your browser, no matter which website you are visiting at the moment. Those messages contain an image, copy and a link to a landing page:

WHAT ARE THE BENEFITS OF PUSH TRAFFIC?
1. Highly engaged audience
Once users opt-in to receive your notifications, you start building an engaged audience interested in what you have to say.
It's a great way to remind your current clients of your app, services and products, or even offer something completely new.
2. High open rates — high viewability
It is almost impossible to miss a push notification! Web browser alerts pop up on top of all open windows and mobile notifications usually stay on the lock screen until you click or choose to dismiss it.
3. Reach and performance
The high viewability mentioned above also helps to increase reach and performance. This ad format usually sees high CTR (click-through rate) compared to others.
4. Real traffic (no bots!)
Since users need to opt-in and agree to receive push notifications, the possibility of bot traffic is reduced, what makes incoming traffic more legit.
5. Low costs
Compared to other formats such as email and SMS traffic, push traffic has a low cost. Usually you can buy push traffic on CPC (cost per click) or CPM (cost per thousand impressions) basis.
6. Format
Format is quite simple and convenient — you only need a subject (or title), description (copy) and an image (thumbnail). It allows you to easily perform A/B tests, changing copies, images and so on.
7. Easier to expand your user database
Unlike building email lists and creating opt-in forms to collect user data, it is easier to get new users for push notifications — they are technically one click away from subscribing to your "list".
8. Personalization
It is possible to create different target groups to segment your audience and send personalized messages. The success of your campaigns depends on your approach to the right user at the right moment. Always take into consideration user behaviour on-page or in-app.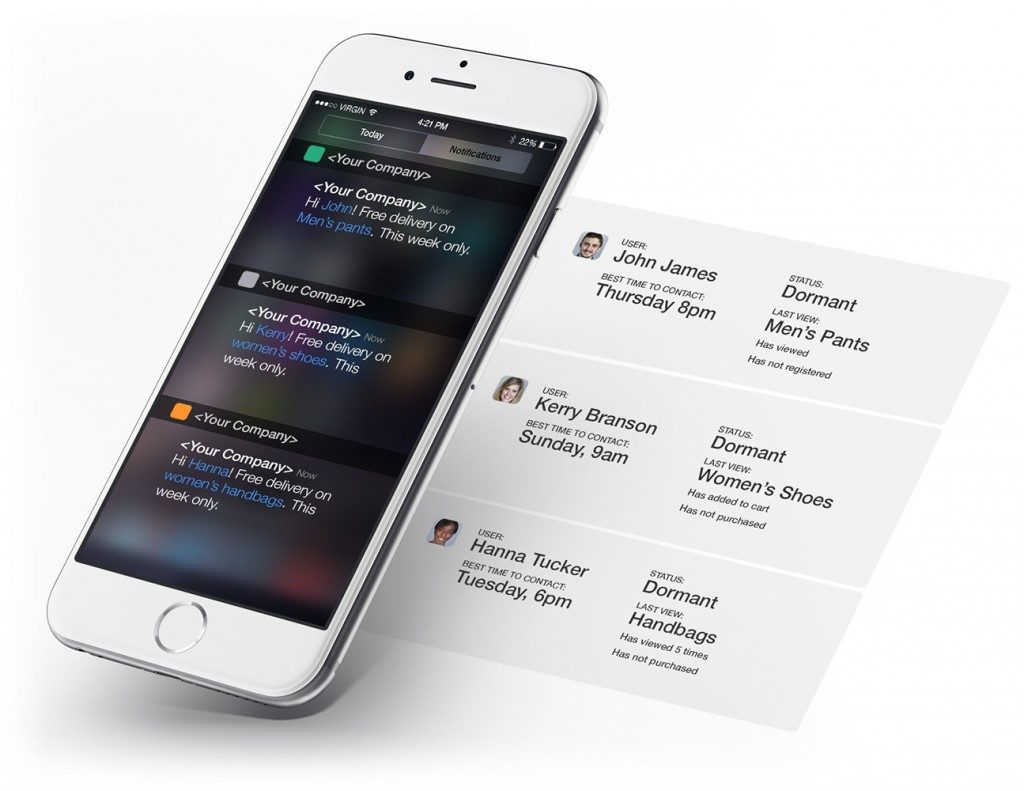 Targeted mobile push notifications
9. Retargeting
Visitors are leaving your website without taking any further actions like buying, downloading or subscribing? Mobile users are not exploring the full capacity of your app?
Push notifications are a perfect way to reach out to these users and bring them back to your page or app.
If you are a merchant, you can send cart abandonment push notifications, for instance. If email is your only strategy to retarget these potential buyers, you are losing time — push notifications are more immediate and faster than emails.
If you are an app developer, you can offer deals based on user's location (food delivery apps), inform users about lower rates (ride sharing apps), send reminders (language learning apps) and much more.
FOR WHICH VERTICALS SHOULD YOU USE PUSH TRAFFIC?
It's hard to say exactly which verticals and niches work better with push traffic. At first, a good idea is to test different creatives, landing pages and verticals along with other traffic sources. Never stop testing!
Anyway, if you consider what most of affiliates, website admins and merchants are promoting via push traffic, here are some topics you can cover:
New content: you can bring users back to your website offering content updates. Once there, users can also be impacted by other formats and offers. It is a smart way to combine and test different traffic sources;
E-commerce special offers and discounts: merchants can always attract customers back to their e-commerce offering special deals and discounts;
Sweepstakes and freebies are also attractive for users receiving push notification;
Geolocation notifications: mostly used by apps, if users opted-in to receive notifications and allowed the app to use their location, you can send geolocated messages and offer in-store deals for instance;
Mobile apps promos and in-app actions: if your app users allowed you to send notifications, you can always send reminders, special offers or invite them to perform a specific action in-app.
Don't consider this as an ultimate list for the use of push traffic. Affiliates are also using push traffic for dating, binary options/crypto, nutra and many other verticals. As mentioned before, always test different offers and angles — you can be surprised!
WHAT YOU SHOULD AVOID WHEN RUNNING PUSH TRAFFIC
Spamming: the possibility of sending notifications at anytime to your database might be tempting, but as any other traffic source, frequency is very important and should be taken into consideration. Users can always revoke the permission, so be careful and plan accordingly when and how many messages you will be pushing. Maintain users engaged and don't annoy them in order to keep high-quality traffic;
"One size fits all": as mentioned before, one of the benefits of push traffic is the possibility of personalization. Don't send the same message to everyone in your push list. Instead, make it more specific and segment your audience. And don't forget to always test new copies, images, angles etc;
Not making use of automation: first of all, automation is a time-saver. It is also very important to plan and schedule your push notifications to reach users at the right moment;
Click-baiting: don't push and attract your users with fake promises. Stick to your offer/landing page otherwise you will lose credibility and some users might even opt-out from your notifications.
HOW TO GET STARTED WITH PUSH TRAFFIC
There are basically two ways to get started with push traffic.
If you have your own websites, you can already start gathering opt-ins from your visitors. Find the best tool for you among the ones available in the market: PushEngage, PushWoosh, OneSignal, ZoPush, VWO and many others. Building your own list takes time, but the quality tends to be higher.
Second option is to buy push traffic from networks. They can have their own traffic or a large base of publishers and affiliates providing this type of traffic. There are many networks focused only on push traffic in the market. Media buying delivers faster results, but you cannot always guarantee high quality.
WHAT'S NEXT?
Push traffic allows affiliates and advertisers to promote different offers, test copies, landing pages, angles and can be very cheap and easily scalable.
Anyway, always keep an eye on quality and before sending big volumes, contact your affiliate manager to ask for permission.
You should definitely consider push notification in your promotion strategy while it is still hot in affiliate marketing industry!
And you, how do you see push traffic in the long-term? Excited about testing this format for your campaigns? Please do not hesitate to share your thoughts below!