Poland and Colombia might be very far from one another on the map, but as it turns out as people, we have more in common than anyone would expect. The know-how gathered by our Warsaw's team can be successfully and efficiently used to help and empower Colombian companies. Meet Daniela Torres, Head of LATAM, who is responsible for Performante's operations in that region.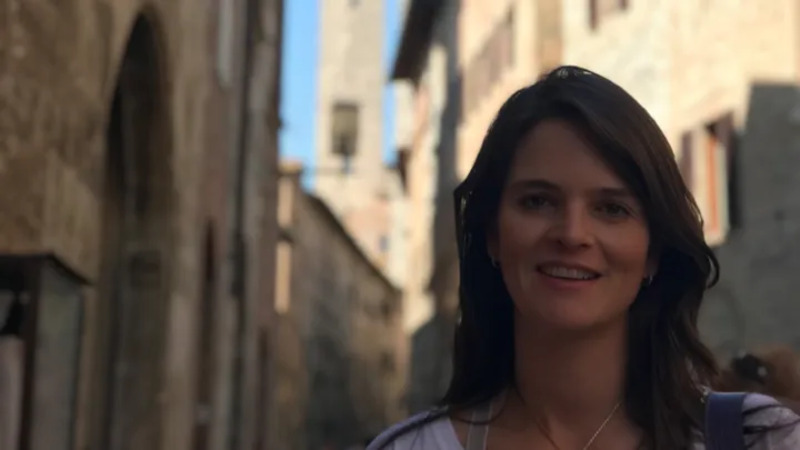 Daniela Torres, Head of LATAM
Let's start with a bit of a background check. What are your career experiences up until this moment?
I am a lawyer… yes, a lawyer. So I had a rough start because I discovered that my studies were not my passion. I started searching for different career paths and because of life circumstances, I was given the opportunity to work in sales and to have huge responsibilities in a short period of time. I had to learn faster than fast and I had to be accountable for my responsibilities, which gave me a lot of knowledge. I worked for a lot of time in the appliances retail business, and, when I felt there was nothing new there for me, I went out and looked from scratch for a different opportunity. That lead me to WeWork which lead me to Performante.
What made you join a Polish company operating in Colombia?
Well, when I met Maria Dulnikiewicz I only knew two things, first, that my time had come to choose a path that would take me where I had pictured myself, and, second, that I would find that path allowing myself to think out of the box and searching for opportunities in the unknown; opportunities often come in forms and shapes that we don't recognize, so we have to be open-minded and ready for when they come.
A Polish company that I had never heard before, just happened to be my chance to prove myself, to put in practice all the knowledge I had gathered and to pursue my ambitions. Also, I just clicked with Maria right away and that made me comfortable enough to take a leap.
Thanks to that you are now in Performante taking responsibility for a very important market for us. How it is to develop a business in Colombia?
Developing a business in Colombia is a complete challenge, but… it represents huge opportunities. The downside of developing a business in a third world country is that you often find many obstacles and things just don't go by as fast as you'd like. Nevertheless, it is a terrain where not everything has been said and done, and that means that (depending on what you are offering to the market), your business value proposition can be unique and really change people's and businesses' lives. That is our case with Employer Branding, Performante has the advantage to every other company in our market.
Also, I think it is important to say that in our country, people are very open and always willing to give you an opportunity. You can call the CEO of almost any company and they will very likely take your call; when they do, it's time for your magic.
Right now our Bogotean branch focuses a lot on Employer Branding services, do you think that it has good potential on the Colombian market? What is that the companies in Colombia need right now?
100%, we have all the opportunities. Right now we just have to bear with the situation and never stop searching and planting, it is just a matter of time that we get to the top. Traditional big companies in Colombian are feeling threatened by multinational and startups that are very aware of the importance of communicating with their people and to position themselves to attract the right talent. Therefore, they need to learn fast and to adapt even faster, and… when they start looking we will be there (if we haven't found then first).
You've met and talked with the representatives of many companies — do you have any thoughts on that, are there any topics that repeat?
Yes, one topic that always appears, all of them are totally aware of the complete necessity to communicate correctly with their employees and to attract correct talents.
Recently we prepared a special report about employer branding in times of a global crisis — are there any conclusions that seemed to you the most important?
Yes. The most important conclusion is that all of them considered the importance of having a clear, and in continuous execution, EB strategy as their guideline to communicate correctly with their employees. Also, it was nice to know that, when times got tough, all of them thought first in their employees' health, in how to help them go through this crisis both as employees and as human beings. What this demonstrates is that they are very aware of the importance of having happy, satisfied, and committed collaborators.
Our team taking care of Employer Branding activities operates mostly from Colombia and Poland, do you think that being from such different countries can work out together effectively? Or maybe we are more similar than anyone might think?
Surprisingly yes. At the beginng, when I first joined the team, I have to say that I really thought it would be complicated to receive information in Spanish and to share it with a team that is not only not familiar with the language, but also that knows very little about our culture. Well, it turns out that every single one of you is so amazing in what you do, that you have no obstacles ahead when it comes to delivering only the best to our clients, I am really amazed.
Also, I do think that our cultures are much more similar than what we all think they are.
What are your impressions of working with a Polish team? Be honest!
Only the best! Unfortunately, I haven't had the chance to meet you all, but even in distance, they have managed to make me feel part of this family! I've also learned a lot from everyone!
Hundreds of emails, tons of meetings (even though right now they are held online) — how do you keep it under control?
I am just a nonstop person, I like being busy and, therefore, I hate not having what to do. I like to push myself to accomplish my objectives so I try to look for every single possible way available to achieve them. I want to prove that I am valuable and capable… that is still to be proven, Covid-19 stood in my way.
To summarize, let's talk about the future — where do you see yourself and Performante in few months?
I picture myself having a very capable team with development opportunities, working with both recognizable and nonrecognizable brands, old and new, big, and small companies throughout Latam. I picture Performante being recognized as a voice of authority when it comes to EB and receiving a lot of requests for meetings, proposals, and projects. I picture Maria and myself being interviewed about our success story in LATAM. ;)